Film and New Media Studies
In our current era, cinematic expression and technological innovations are propelling each other forward and evolving, and we are faced with a demand for artists and researchers capable of organically synthesizing the broad range of knowledge pertaining to film and new media. Film and New Media Studies as a discipline responds to this demand by focusing on the pursuit of contemporaneous expression using film and media and the development of the necessary creative techniques and technology. Furthermore, society at large expects this field to elucidate the role of film and new media in culture to demonstrate its development potential and transform insights once privy only to creators into publicly accessible knowledge.
Curriculum
Taking full advantage of its distinction as an educational institution with its own production facilities, the Tokyo University of the Arts Graduate School of Film and New Media provides an environment conducive to the deepening of knowledge from the perspective of both theory and practice. In the Doctoral Program, teaching staff from the departments of Film Production, New Media, and Animation in the Master's Program gather in a single Department of Film and New Media Studies to give lectures and seminars. Senior and assistant teaching staff assigned to individual students offer ongoing guidance. In accordance with their progress, students give research presentations and submit survey papers, undergoing preliminary assessment based on their practical achievements before submitting a doctoral thesis.
As students prepare to submit their doctoral thesis, they can choose broadly between a method of study with a theoretical focus and one with a practical focus. The former is similar to the method traditionally implemented where results are presented in the form of a thesis. The latter involves students presenting the results of their research mainly in the form of exhibitions of artwork or performances, with a thesis also submitted to complement this work. This conforms to the method implemented widely overseas in recent years, particularly for doctoral programs in the field of art. In either case, assessment is carried out by a committee of examiners including experts from outside the department, reflecting the nature of the subject as spanning multiple fields. Doctoral degree holders usually go on to take up highly specialized positions as university academics, independent researchers, archivists, and so on.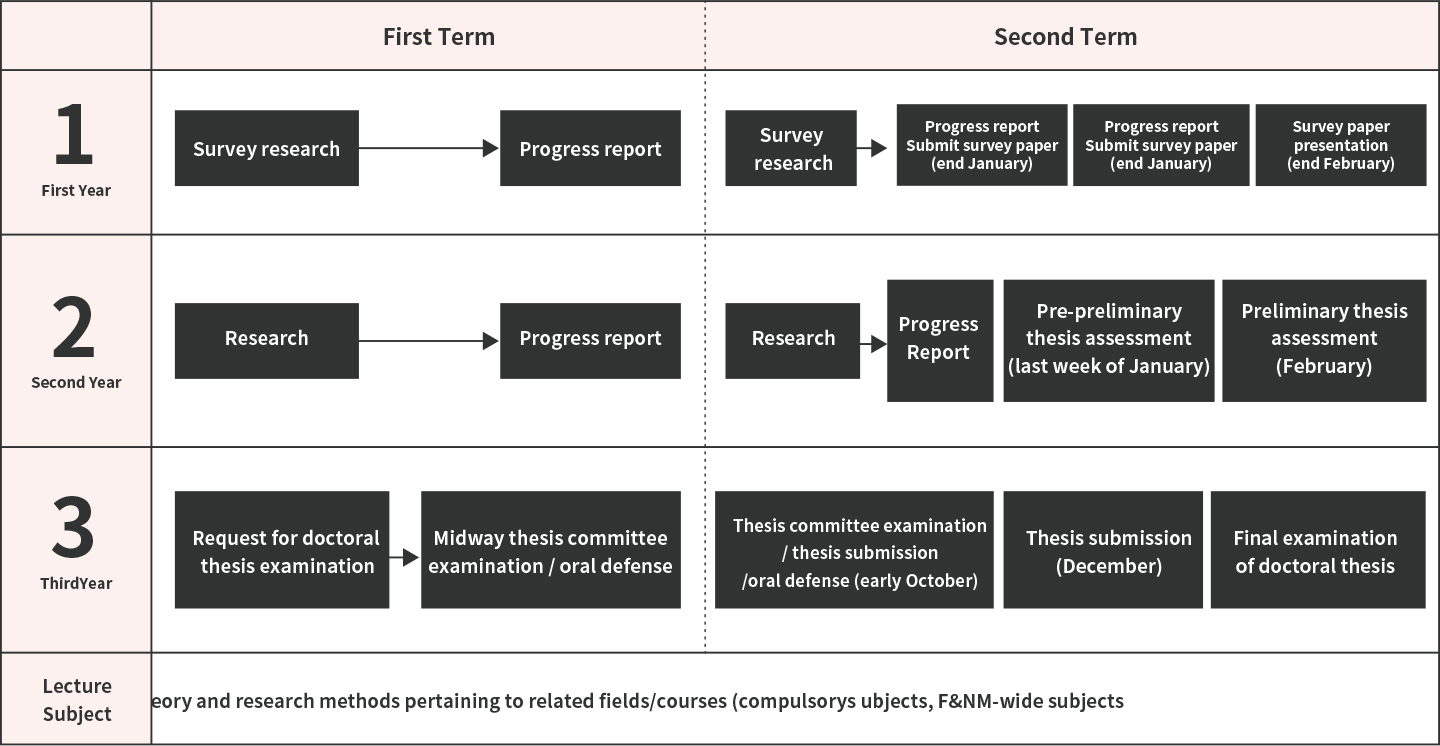 Recent Theses
Masasuke Yasumoto

"Creating the continuous fun of interactive works" (2009)

Noboru Matsuura

"Satsuei: its conceptualization in scientific books after Kaitaishinsho" (2010)

Jung-Yeon Ma

"A History of Media Art in Japan" (2010)

Tatsuya Saito

"Visual Grip: Practical Studies on Manipulating Visual Images" (2011)

Yoshikazu Fujita

"Language construction and lateral thinking in artistic creation" (2012)

Michiko Tsuda

"An experimental project on how to orientate the 'subject' and 'object' in visual media" (2012)

Lu-Shan Liu

"An immigrant's story: cultural practice as narrative right" (2013)

Tomohiro Akagawa

"The creative process of exhibiting new expression using physical materials" (2013)

Shogo Yokoyama

"A proposal for agile production systems and editors/sound designers for digital cinema" (2014)